Meet Dr. David Rahimi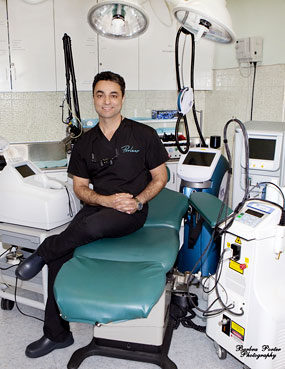 David Rahimi, MD, leads the Forever Young team in providing patients with discrete, personalized care. He has built his practice on the philosophy of holistic patient care, rather than as a series of procedures.
Certified by the American Board of Dermatology and Diplomat of the American Board of Cosmetic surgery, Dr. Rahimi specializes in minimally invasive procedures that look natural and heal fast. He has helped the field evolve with the Tuliplift™ Facelift, a patented procedure that is safer and more effective than a traditional facelift. He has also worked closely with medical pioneers like Dr. Theodore Sutnick, MD who created Manual Epidermal Dermabrasion (MED), a gentler alternative to chemical peels and lasers.
Dr. Rahimi has presented his innovative surgical techniques in numerous published articles and industry conferences. He has received several awards in recognition of his skill, including the Walter F. Rosenberg award in dermatology and the William Newman award in pathology.
Dr. Rahimi received his medical degree with distinction from George Washington University School of Medicine, completed his residency in dermatology at Mount Sinai Medical Center of New York and is Fellowship trained by the American Academy of Cosmetic Surgery.
Dr. Rahimi resides in Los Angeles with his family.
Board Certifications:
Society Membership: