Clear Complexion for Dry Skin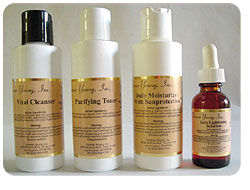 Vital Cleanser
A unique blend of Glycolic and salicylic acid for any skin type. This cleanser will dissolve the expired surface skin cells while removing makeup as well.
Active Ingredients: Sodium laureth sulfate, glycolic acid, aloe vera gel, salicylic acid, allantoin, Cocamoniumcarbamoylchloride, quarteernium- 75, Polyquarternium- 10, PEG-150 Pentaerythrityl Stearate, citric acid, FD & C blue # 1, fragrance.
Purifying Toner
The "purifying Toner" is a gentle formation designed to remove impurities and tighten the skin. It is ideal for acne, uneven pigmentation, or mature skin. The Toner should be used after the skin has been thoroughly cleansed.
Active Ingredients: Witch hazel, aloe vera gel, glycolic acid, and algae extract, polysorbate 20, allantoin, salicylic acid, diazolidinyl urea, methylparaben, propylparaben.
Daily Moisturizer with sun protection
This is a specially formulated moisturizer is well tolerated and does now cause acne. It has just the right combination of physical and chemical sunscreens and can be applied several times a day. It was specifically developed for patients with sensitive skin and works great in combination with the other products.
Active Ingredients: Octyl methoxycinnamate, octyl salicylate, benzophone 3, titanium dioxide, glycerol stearate, polysorbate 60, sodium EDTA Retinyl palmitate, arnica extract, green tea extract, St. John's wort extract, methylparaben, propylparaben.
Skin lightening Solution
The "Skin lightening Solution" has Hydroquinone and glycolic acid as active ingredients. Apply a few drops to the discolored areas and gently massage in. The bleaching process is cery gradual and it may be some time before significant improvements are observed. For optimal results, daily application of sunscreen is critical. This formulation may turn slightly brown with time- this does not decrease its effectiveness.
Active Ingredients: Hydroquinone 4 %, propylene glycol, glycolic acid, octyl methoxypropylcellulose.